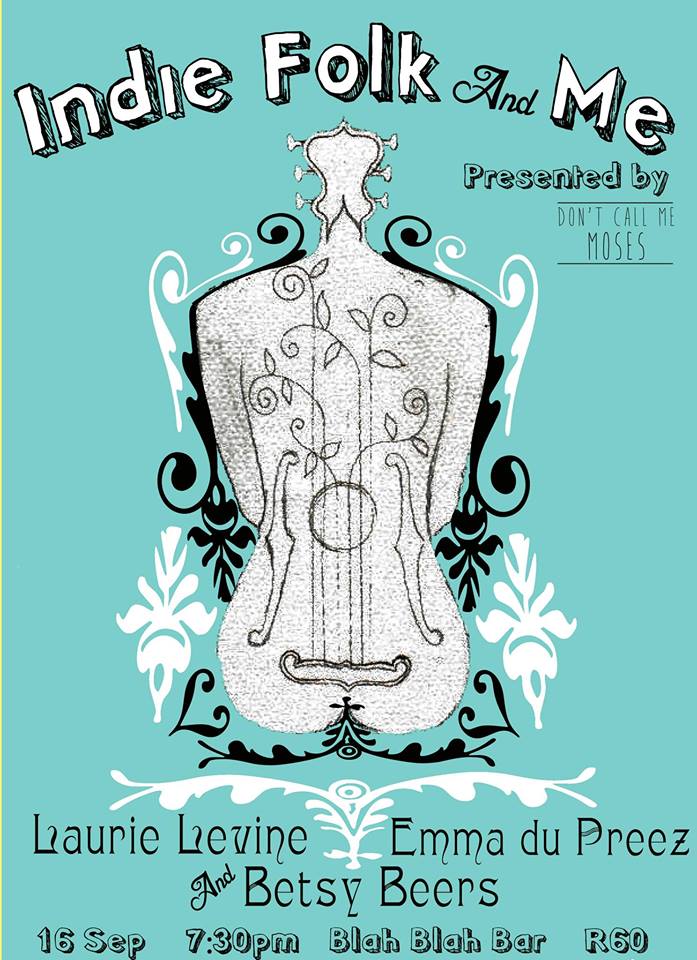 Don't Call Me Moses presents "Indie Folk And Me" featuring Laurie Levine, Emma Du Preez and Betsy Beers.
Join us for a fun evening celebrating these talented female musicians.
Diego from Ferdinanando's pizza will be serving his delicious authentic Italian pizzas. Arrive early so you can order you pizza before the show.
The idea behind this event…
As a music lover and regular concert and festival goer the issue of gender inequality in the music scene not only in South Africa but all around the world has recently been brought to my attention. In the past this was something that didn't even cross my mind, going to festivals and watching predominately male acts was just the norm. Once I realised it, it was so obvious to me. I am passionate about both music and women and providing a platform for the recognition of female artists is the driving force behind this event and what we hope will be many more.
Time:19:30
Venue: Blah Blah Bar
Tickets: R60 + R5 booking fee from Quicket
Door: R80 if tickets still available
Artists
Laurie Levine
Laurie Levine is an award winning singer-songwriter carving out an original niche in contemporary folk music. Her exciting blend of American roots music and the 'Nu-Folk' sound has earned her critical acclaim.
Emma du Preez
Emma is a singer/songwriter based in Cape Town, South Africa whose brand of post-modern indie-folk is self-aware, smart and emotionally authentic. Pretty, poignant and quirky; her sound has been likened to artists like Suzanne Vega, with an emphasis on lyrical craftsmanship and nostalgic story-telling, and early Jewel, with an intensely emotive vocal delivery and hints of pop-country and bluegrass influences.
Betsy Beers
With sweet harmonies and poetic catchy lyrics, this Capetonian sister duo blends a unique fusion of indie, folk and bluegrass, accompanied by their variety of instruments from banjo picking to fast guitar strumming and some harmonica blowing.
The fun way that they engage with their crowd and each other on stage will make you feel right at home.
Betsy Beers will have you singing, stomping your feet, clapping your hands and begging for more of their happy heartbreak songs.